Malnutrition
A cornerstone of community empowerment, HIAM Health educates and leads Timorese to eat healthy and live well. HIAM Health is a vital voice in Timor-Leste's fight against malnutrition.
Hiam Health
HIAM Health derives from the acronym of our tagline in Tetun, Hamutuk Ita Ajuda Malu. In English, it says "Together we help each other". Because only together, can we eradicate the misery of malnutrition. And in local culture, the two hands with palms up in our logo means "my hands are free and ready to serve you".

We believe in a country free from malnutrition. And our goal is to reduce the unacceptably high rate of malnutrition in Timor-Leste sustainbly through education. Our special focus is on educating mothers whenever they bring a malnourished child to our feeding centre for rehabilitation.
Impact

To Date

$200,874

total funds raised

14,500

individuals benefit from hygiene take-home packs

12,310

people impacted by gardening take-home pack
Malnutrition in children
54% of children under 5 years old are
chronically malnourished.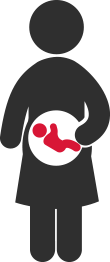 are currently malnourished (~400,000)
Malnutrition in mothers leads to low birth weight.