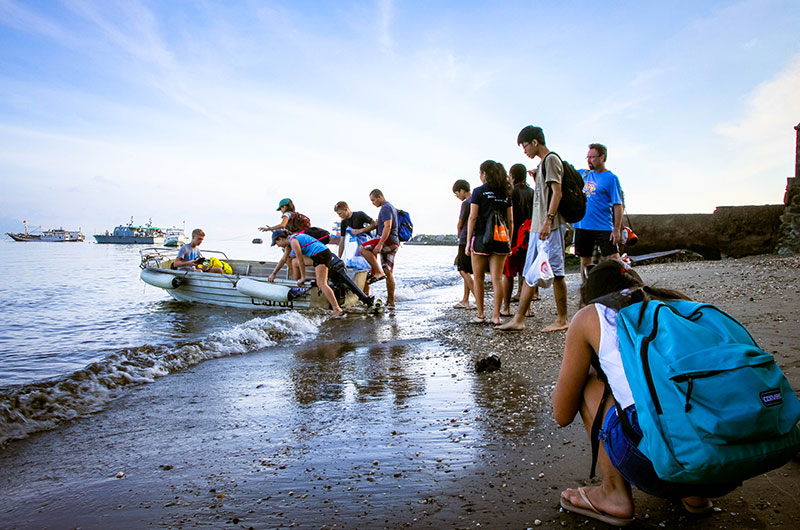 Singapore American School Interim
February 2014
For a second year in a row, a group of 20 Singapore American School (SAS) made their way back to Asia's diamond in the rough – this time undeterred by the torrential downpour that rerouted last year's group to Sulawesi.
Field

Notes

This year's service learning adventure took them up Timor-Leste's highest mountain, through rugged winding mountain passes and down to the country's pristine dolphin filled waters at Atauro Island. Over 8 days, they were immersed in Timor-Leste's turbulent history, ancient culture and unconventional politics of the youngest nation in Asia.

Students got down and dirty working on a Home Kitchen Garden Project – an initiative by HIAM Health.
Trip

Impact

HIAM Health
Malnutrition Centre for Children
HIAM Health helps women and children suffering from malnutrition. It takes a holistic approach, rehabilitating children suffering from malnutrition in addition to educating families and communities about proper nutrition. The Home Kitchen Garden Project seeks to provide families with balanced meals and an additional source of income.

Under the clear blue skies and scorching timorese sun, the group spent their last day snorkelling and exploring indigenous communities on Atauro Island before being escorted back to the main island by pods of dolphins through the Wetar Strait.
Catalysts
Jamila Adams
Janna Louise Augustin
Amna Ahmed
Sanjana Balachandran
Tamara Dibb
Danielle Ellis
Nina Hanz
Hannah Horowitz
Zachary Atlas
Christopher Chan
Michael Chu
Kevin Clydesdale
Mikael Dahlgren
Cole Derksen
Mao Huan Huang
Joseph Irwin
Siddhanth Iyer Sequeira
Philip Jung
Salil Mitra
Elliot Tan
Ian Coppel
Mark Clemens
Crew
Alexandra Toh
Zhang Tingjun
" Our trip to Timor-Leste was definitely one of the most memorable trips and learning experiences for me. From the daunting climb up Mt. Ramelau to hearing inspiring stories at a school, Sol 24/7, to relaxing on the beach at Atauro Island, we were immersed head-to-toe in Timor culture. And it was an amazing thing to be a part of. "