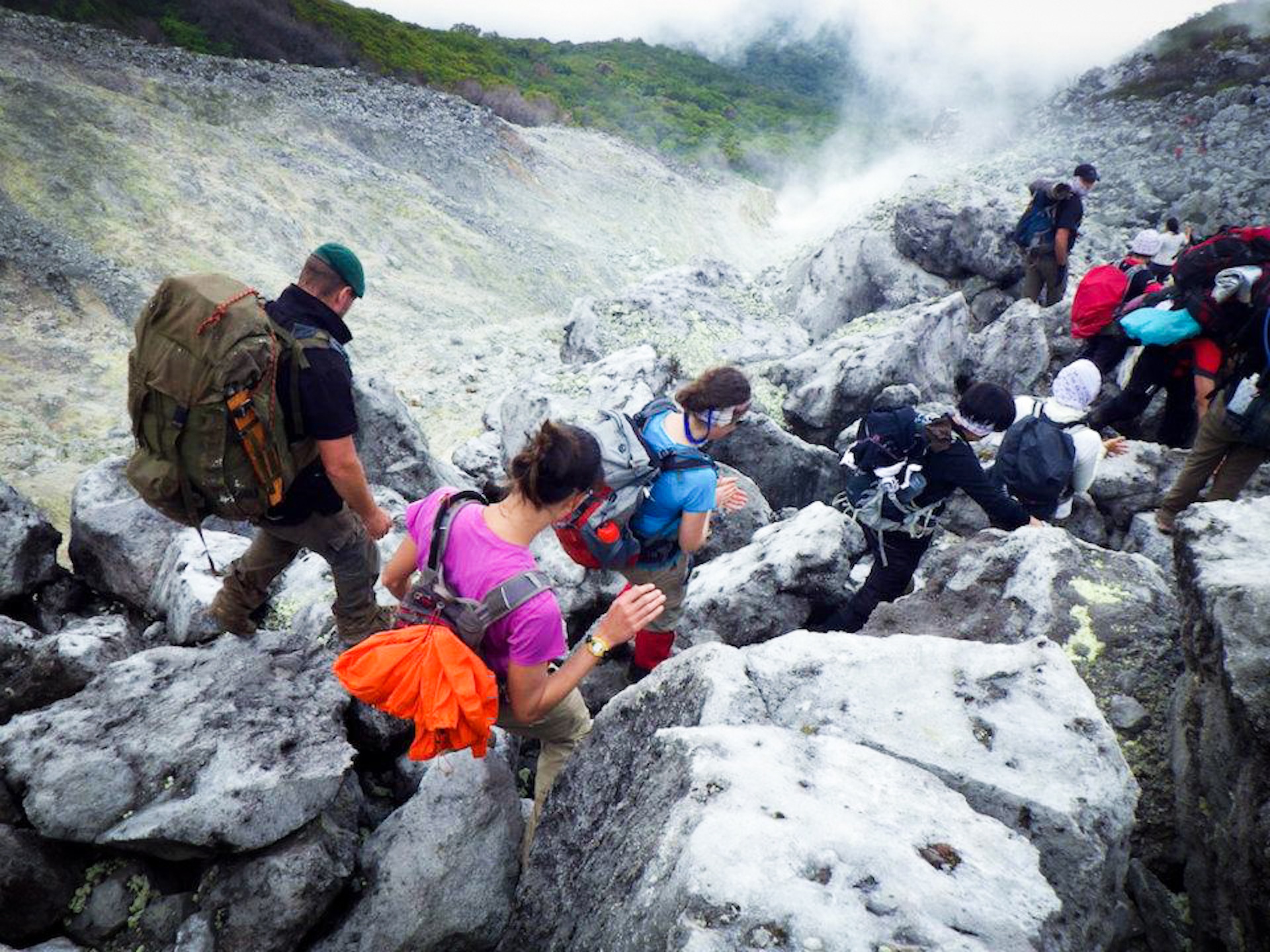 Mt. Apo Ultimate Survival Challenge
April 2012
With months of training behind them, and all ready to rumble, Team TCRP descended on the city of Davao, Philippines.
Field

Notes

The 33 Catalysts shared the goal of raising funds and awareness for the Visayan Forum Foundation's Centre of Hope. 12 Catalysts competed in the 24 Hour Mt. Apo Boulder Face Challenge, which saw them cycling, running and water tubing all in an effort to scale Mt. Apo in a day.

A few days later, 27 Catalysts – including 6 of the 24 Hour Challenge Competitors – set out on the TCRP Ultimate Survival Challenge, summiting Mt. Apo in a 3-day hike through rainforest, sulfurous vents and 87-degree ascents.


Trip

Impact

Visayan Forum Foundation
Centre for Hope
Founded in 1991, the Visayan Forum Foundation Inc. (VF) works towards the protection of vulnerable migrants, victims of human trafficking, forced labor and other modern-day forms of slavery. It is estimated that 100,000 children and 300,000 women are trafficked out of the Philippines each year.

The Centre of Hope is a secure facility that serves as a safe haven and reintegration centre for victims of human trafficking. More secure than other safe houses, it takes in girls who are pursuing legal action against their traffickers and gives them counseling and skills-based training.

The centre takes in 300 girls a year, and is part of the larger objective of empowering victims of trafficking through a holistic intervention model of prevention, rescue, healing and reintegration and is a means of equipping girls with economic empowerment.

The TCRP 2012 initiative raised over SGD$100,000 for the Centre of Hope.
Catalysts
Alexandra Toh
Anina Boshoff
Jasmine Wong
Zhang Tingjun
Amanda LeVett
Aaron Cherbonnier
Andre Cherbonnier
Annabelle Magaoay
Aziz El Bakush
Charlotte Hsu
Elizabeth Tan
Erik Hertzman
Fei Woon
Frank Yap
Glenda Chong
John Gordon
Jonas Löfgren
Kirindi Akinyi
Leklek Villanueva
Lydia Lindsay Lewis
Nina Akinyi
Richard Weller
Sharon Tan
Shauna Foo
Shei Wah Tan
Shuqi Liu
Teo Pok Zin
Torun Stenseth
Weili Chua
Yanjun Zhang
Yien Li Yap
Crew
Edwin Lee (Video Production)
Simon Reynolds (ZeroRisk Survival Expert)
" I was told I was crazy for doing it a second time around. But doing it for Visayan Forum, & the fight against Human Trafficking made it all worthwhile. "
Supported

By

Visayan Forum Foundation Inc.
QlikView
ZeroRisk International
MTM Solutions
Bravo Company
BUFF®

Department of Tourism, Davao
Marco Polo Hotel, Davao
Playpoint International
Prospero World
SWEAT
2XU