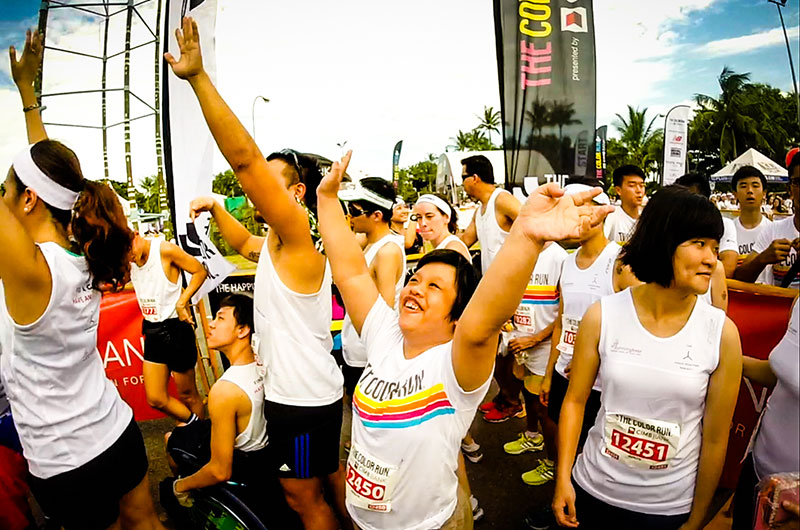 Color Run™ Lion City Adventure
August 2014
"I love COLOR! I love COLOR!" shouted Wei Keong, one of Runninghour's most vibrant members, as he raced through clouds of blue powder. This pure exuberance was only one of the special moments that Team TCRP experienced during The Color Run 2014.
Field

Notes

For their first initiative in Singapore, TCRP chose to support Runninghour, an inclusive running club that promotes integration of people with special needs through running. Runninghour seeks to attract sport professionals and passionate runners to team up with a Runninghour member who may be mildly intellectually, physically or visually challenged. With their buddies, members can safely participate in training runs and running events throughout the year.

Leading up to The Color Run, Runninghour members with their Team TCRP buddies were hard at work and play at Bukit Batok Nature Park and Toa Payoh Stadium. For two consecutive Saturday mornings they trekked, jogged through narrow trails, ran up hills and stairs all the while talking, laughing and getting to know their TCRP buddies. Runninghour members even had enough energy to show off their athletic prowess at the fitness circuit!
Trip

Impact

Running Hour
Special Needs
72
volunteer hours commited
As Team TCRP's continued commitment to Runninghour, TCRP volunteers will keep spreading the happiness by joining their Runninghour buddies for at least three more training runs and beyond.

"I AM SO PROUD OF MYSELF!" Well, Team TCRP is deeply proud of you, Wei Keong and all your Runninghour friends. Keep on following your passion for running and inspiring the rest of us. Because of you, the running community is more colorful and spirited! Thank you for brightening up our lives.

- Kristina Liu-Blanton (Lion City Catalyst)
Catalysts
Noelle Henry
Nick Fang
Kristina Liu Blanton
Philip Henry
Jessica Henry
Luke Henry
Logan Henry
Tyler Henry
Laura Yeap
Choi Lai
Liu Shuqi
Lek Lek
Natasha Shariff
Ma Huajia
Jonathon Lee
Crew
Zhang Tingjun
Alexandra Toh (Photography)
Eileen Chong (Video Production)
" I've always been passionate about running/outdoors/adventure. I grew up running track and cross country. Being able to see people with disabilities share the same joys you have…something as simple as putting on a pair of shoes and going for a few strides is priceless. "