TCRP 2012: A YEAR IN REVIEW
January 13, 2013
TCRP 2012: DAVAO, PHILIPPINES (April 2012)
With 28 Little Catalysts That Could charging a mountain, things were bound to get a little psycho. Bee stings, bum knees, loose boulders, sulfurous geysers, vertical ascents and a literal mountain of mud made for one crazy adventure. Troops rallied through sun and rain, creeks and fields, over boulders and under tree trunks, and pulled through to wake up on the most beautiful sunny morning at the peak of the beast. What started out as a simple hike up a mountain, turned into an adventure of a lifetime. In high spirits and with plenty of spunk, Team TCRP conquered all 2,954 metres of Mt. Apo, and raised SGD$100,000 for Visayan Forum Foundation Inc's Center of Hope!
TCRP 2012: BUILDING HOMES MANILA X WOH HUP (PRIVATE) LIMITED (November 2012)
Last November, we partnered with Woh Hup (Private) Limited and Gawad Kalinga to build homes for typhoon victims in the Philippines. Over four weekends, Woh Hup staff built housing for 10 families at the Dr. Jose Rizal Gawad Kalinga Village. Under the unrelenting blaze of the Filipino sun, Woh Hup staff mixed, shovelled, paved, poured, hammered, and painted their way through the weekend. Working with the beneficiaries of their hard work, staff laid the foundations of the houses only centimetres from the field of tents where those awaiting their houses have lived for over 2 years. Now, the field is 10 tents down and 10 families have a safe place to begin a stable life.
TCRP 2012: SIEM REAP, CAMBODIA (December 2012)
As the gateway to the Angkor region, Siem Reap is home to the magnificent remains of the Khmer civilization – Angkor Wat, the largest Hindu Temple complex in the world. Under it's ancient arches, shuffle by step by shuffle, TCRP Catalysts ran for Sala Bai. TCRP 2012 Catalysts started their journey at the Tonle Sap Lake as they retraced the footsteps of Khatna, a graduate of Sala Bai Hotel School. From the largest fresh water lake in Southeast Asia, Catalysts were taken through the vulnerable floating communities where many live under the poverty line. Under the shade of 100 year old Banyan Trees, TCRP Catalysts took on the challenge of the 17th Angkor Wat Half-Marathon. Collectively, TCRP 2012: Siem Reap Catalyts raised a total of SGD$40,000 for the students at Sala Bai.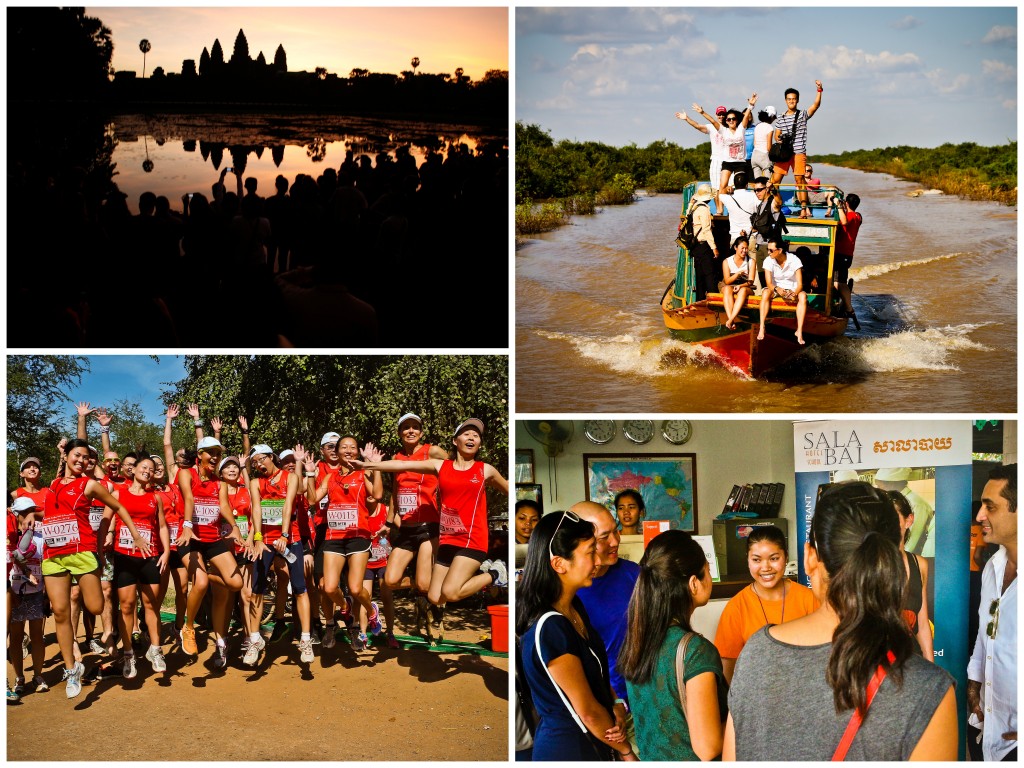 Click here for a sneak peek at TCRP 2013!