2011 // Kilimanjaro Adventure Challenge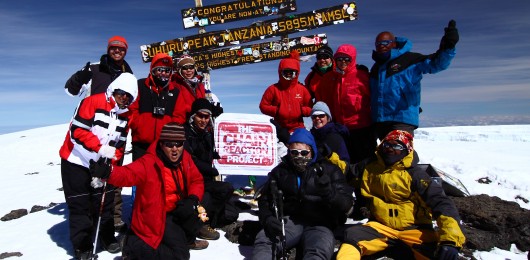 DATE: February 2011
ADVENTURE: Kilimanjaro Adventure Challenge
COUNTRY: Tanzania
NO. of CATALYSTS: 11
BENEFICIARY: Amani Children's Home
FUNDS RAISED: SGD$38,000
CAUSE: Education (Children)
FIELD NOTES
With their boots tied tight and their hair combed right, Team TCRP took their 2011 adventure to Moshi, a small town at the foot of Mount Kilimanjaro in Tanzania.
There, represented by 11 TCRP Catalysts, the team took part in the annual Kili(MAN)jaro Adventure Challenge to raise funds and awareness for Amani Children's Home.
Catalysts competed in all or part of the 3 stage race – summiting Mt. Kilimanjaro, a 2-day MTB race & a full marathon.
Amani Children's Home is dedicated to the protection of Tanzania's most vulnerable population: street children and AIDS orphans. It is estimated that there are 2.5 million orphaned children in Tanzania.
Since its founding by Tanzanians in 2001, Amani has rescued hundreds of children from the perils of life on the streets, where they face a high risk of HIV transmission, malnutrition, and abuse.
Amani, which means "peace" in Swahili, provides healthy food, education, counseling and medical care for every child who turns to them for help.
The TCRP 2011 initiative raised over SGD$38,000 to fund the purchase of a larger farm for Amani Children's Home.
Amani currently spends SGD$35,500 a year on food for the orphanage.
A larger farm will allow the home to be more self-sustainable by enabling them:
to grow enough maize and other crops to use throughout the year

to raise animals (cows, goats, chickens) for food and extra income (selling eggs, chicks, etc.)

to teach the children animal husbandry (an essential skill in Tanzania)

to use as a transition home for older Amani youth who can learn to manage a small farm before going out on their own
CATALYSTS
Alexandra Toh
Anina Boshoff
Jasmine Wong
Zhang Tingjun
Kunal Katre
Weili Chua
Christine Chin
Lynda Hong
Fei Woon
Aparna Rajgopal
Niruvashnee Govender
PARTNERS & MAJOR DONORS
TCRP Catalyst Kunal Katre recounts his experience at Amani and summiting Mt Kilimanjaro:
If we end up looking at pictures in 12 months and say oh it was a fun trip, that would be a failure.  But I think if more of us can think about what we did and just at some point put our hand up and say we can do this…  That would be a success. Hopefully we've all taken that from this trip. Time will tell. But for me that's the key."
VIDEOS & PHOTOS
Click here to view Videos & Photos from 2011 // KILIMANJARO ADVENTURE CHALLENGE